Sponsored by Haven Insurance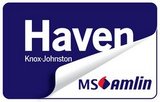 The start time in the Bay of 8:30 was an early start for the PYRA fleet which was not helped by a strong spring flood as we made our way to the starting area. We all had to go the long way round! The breeze was a little stronger than forecast and rose a littl e over the course of the race giving perfect sailing conditions, force 3 to 4 south-westerly. The start boat, The Great Silkie, set a course start start line – finish line and with a strong spring tide under us times to Cowes were incredibly fast, Class 5 Smithy doing it in 2hr 8m, Class 1 Blue Extasy 2hrs 24m, Class 2 Solmate 2hrs 38m. On corrected time the winners were, class 5 Smithy, class I The Grey Silkie, class 2 Mojito.
It was good to see a new boat from Parkstone Yacht Club, Shed of Arjuna owned by Rod Harris. She is a 6.5 m (21'4″) Pogo 2 with a rating (0.990) which puts in class 1! I understand that Rod is experiencing a steep learning curve!! We look forward to seeing Shed of Arjuna out in the future.
A convivial evening was spent at the Folly, helped by table wine provided by our sponsor for the weekend "Haven Insurance". Matt Hitt did the honours of telling us our provisional results for the race down.
The race home on Sunday started at any very respectable time of 12:30 enabling leisurely breakfasts and socialising. The flood was still running until about 1400 so tactical decisions needed to be made. Mojito was the start boat and again the course was start line – finish line. The wind was a gusty south-westerly force 3 to 4 to start with however later in the day is increased to force 5 at times. It was a long hard beat and times were nowhere near as good as the race to the Folly. Smithy took 3 hours 58 minutes as did Amethyst, and Solmate 4 hours 32 minutes. On corrected times Destiny was 1st in class I, and Mojito was 1st in class 2.
All in all an excellent weekend with good racing and good socialising.
Your Webmaster, Mike Fox