JOIN PYRA
Go to Sailing Programme
---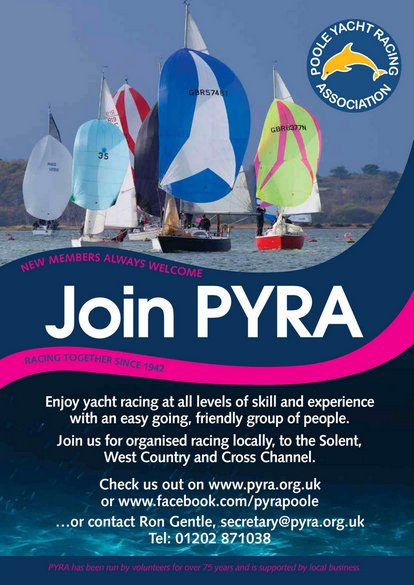 ---
Poole Yacht Racing Association (PYRA) offers coastal and cross channel racing to yachts and multihulls based in or near to Poole Harbour.
We usually enjoy some sociable chatter and beverages at the destination Rendez-vous.
Our objects are:-
"to promote, encourage, organise and coordinate racing for bona fide sailing yachts in association with the member yacht clubs based on Poole Harbour which sponsor it. (Currently these are Parkstone, Poole and Royal Motor Yacht Clubs)."
We put on a varied programme of races and social events. PYRA is about having fun and enjoying our sailing.
Selection Of The Boats From Various Classes
Racing is divided into 5 classes all actively supported
The divisions for 2022 are:-
Class 1 VPRS Fast Group TCC 0.957 and above, (Elan 333 to Humphreys 50 Custom)
Class 2 VPRS Medium Group TCC 0.869 to 0.956, (Hunter Impala 28 to X 102)
Class 3 VPRS Slow Group TCC less than 0.868, (Splinter to MG C27)
Class 4 Ideal for couples, shorthanded or newcomers – Straightforward Bay, Coastal and Channel racing in company – very good company!
Class 5 Multihulls
Annual membership from as little as £60 with a free VPRS Rating Certificate for monohulls, or £45.00 for multihulls.

For more information see about us/FAQ .
To contact PYRA please go to Contact Us .
Other points of contact are listed under about us/officers.
Please send items for inclusion on this site to Helen Annels at
Email Webmaster@ plus domain name.