VPRS-2020-flyer-v4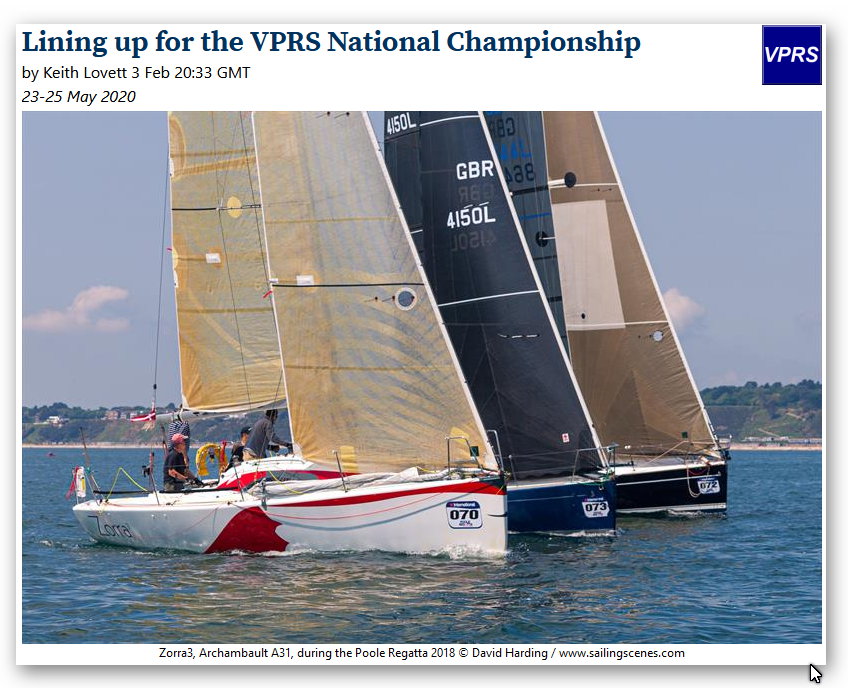 The VPRS National Championship 2020 takes place as part of the International Paint Poole Regatta between 23rd and 25th May with racing over three days in the idyllic Poole Bay under the burgee of Poole Yacht Racing Association.
The fifth National Championships for this rapidly growing rating model, ideal for displacement cruisers and cruiser racers. With over 300 boats from over 25 Clubs using VPRS, a continued increase in the number of entries is expected.
The International Paint Poole Regatta is undoubtedly one of the South Coast's landmark yacht racing events including a full social programme, a variety of berthing options, impeccable organisation both on and off the water.
Following last year's successful championship event organised by the Chichester Cruiser Racing Club and staged from Cowes with racing in the Eastern Solent the move to Poole Bay in 2020, will offer a different environment and diverse challenges. With a substantial VPRS contingent based in and around Poole a healthy entry is expected, in particular joining yachts from Poole and Chichester, those from the West Country and Weymouth taking the opportunity to race, before heading further East the following weekend to take part in the annual Round the Island race.
To that end, those competing in the VPRS Nationals can take advantage of beneficial berthing rates in Poole for the week following the regatta. Poole Yacht Racing Association is also throwing open free entry to any VPRS yacht racing at the Nationals to participate in their annual feeder race to Cowes on Friday, 29th May followed by an infamous PYRA Rendezvous at the Island Sailing Club RTI race village that evening.
To find out more about the full PYRA VPRS racing programme including the 2020 national championships visit www.pyra.org.uk.
VPRS proven through testing and racing over a ten year period is gaining increased traction as a cost effective, easy to administer, fully transparent rating system to find out more visit www.vprs.org.
Picture kindly provided by Sailing Scenes who will be on the water at the 2020 International Paint Poole Regatta including the VPRS Nationals. Visit www.sailingscenes.co.uk to see galleries for VPRS classes One and Two at the event in 2018.