Sponsored by "The Poole Harbour Guide"

Pursuit Race Results- scroll down
Photos  click "Slideshow" once on the album page
PURSUIT RACE REPORT
PYRA's opener for the 2016 season, a pursuit race, was held in Poole Bay on Sunday morning with sharp sunny weather on sparking blue water. The light north breeze proved as flukey as ever being off the shore, especially close in around the windward mark. Port and starboard boats just 300 yards apart on identical courses resulted in some straight line tacking, and necessitating a close watch on the ever changing conditions ahead.
There were 12 entries sailing the triangle course, ranging from first away Dream On (Fox Terrier 22 rating VPRS 0.805) up to Poole Sailing Addiction (Beneteau 40.7 rating VPRS 1.060), started by association captain Roger Bond on Fraid S'Eau.
Dream On had to let the second starter Pink Panther (Achilles 7m VPRS 0.832) past to take 1st place. Behind them the 2 of the highest rated boats (Blue Jay and the Match 35 Firestarter) dealt with the rest of the fleet but failed to catch the leading pair. They finished with a dead heat to take joint 3rd, close ahead of Hecate (H boat) sailed by Steve and Cathy Lacey temporarily forsaking their usual faithful Wild Rival (which would have hated the light conditions anyway).
After the finish crews rendezvoused (is that an English word?) at Poole YC for results and bottle prizes to all entries, courtesy of the generous sponsors, The Poole Harbour Guide.
Although light and sometimes challenging, this first race was thoroughly enjoyable and bodes well for the next PYRA event, 3 days over the early May Bank Holiday to Bembridge and return via Lymington. May the sun and sparkling seas continue but with a bit more breeze please.
Results:-
1 Pink Panther (Tim Lees)
2 Dream On (Nigel Sheppard + Bryan Tucker)
3 Firestarter (Keith Lovett)
4 Blue Jay (Lis + Alan Bennett+
5 Athene (Nick Treble)
6 Zorra2 (Mark Carey)
7 Matchmaker (Mike Fox)
8 Spruce Goose (Giles Alden)
9 Maris Otter (Mike Shrimpton + Rose Debenham)
10 Poole Sailing Addiction (Rob Gibson)
11 Escapade (Diane Bardsley + Chris Bardwell)
Ken Morgan from the deck of Spruce Goose
---
RV Poole Yacht Club  14:00
For Class Splits scroll down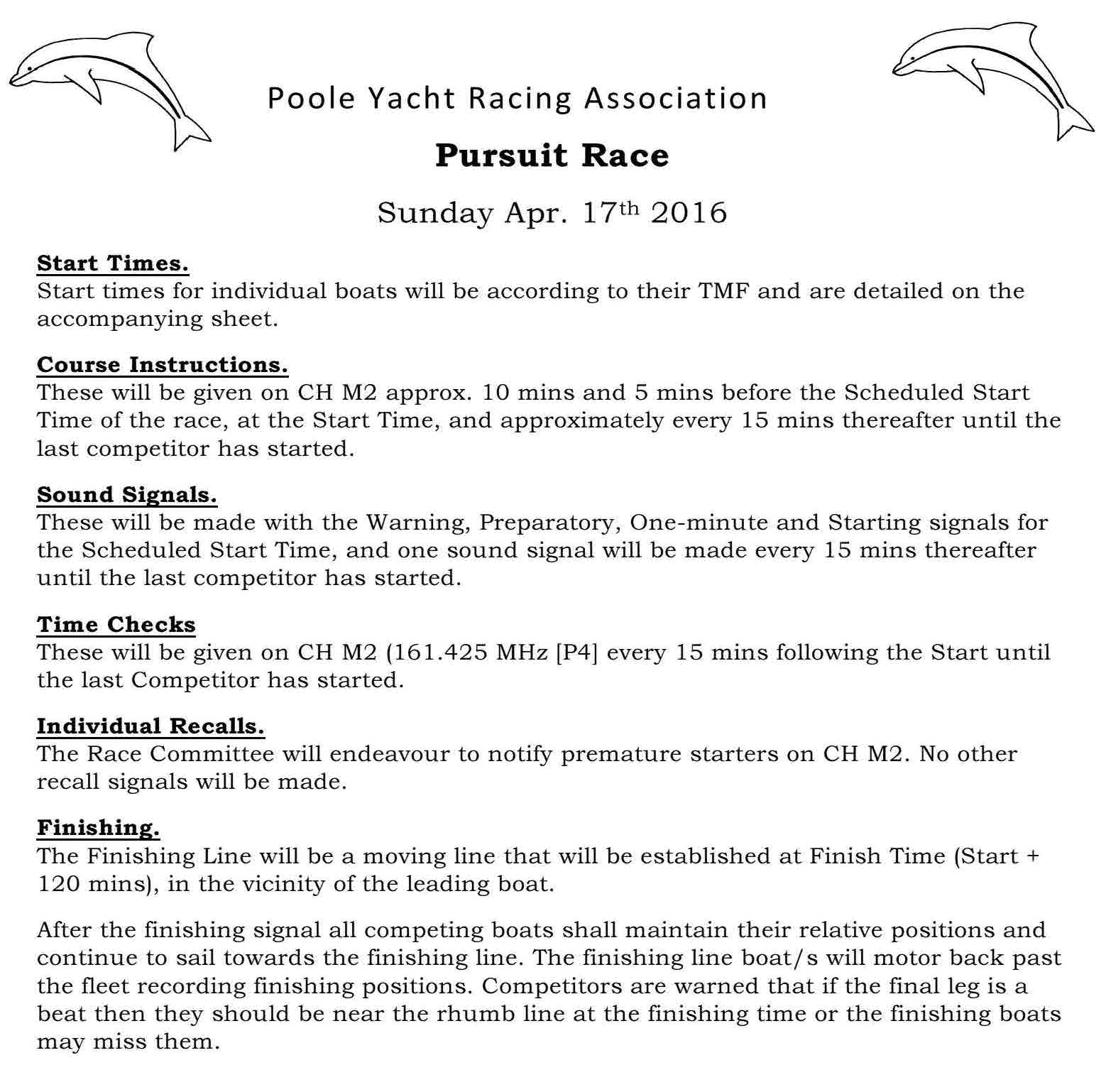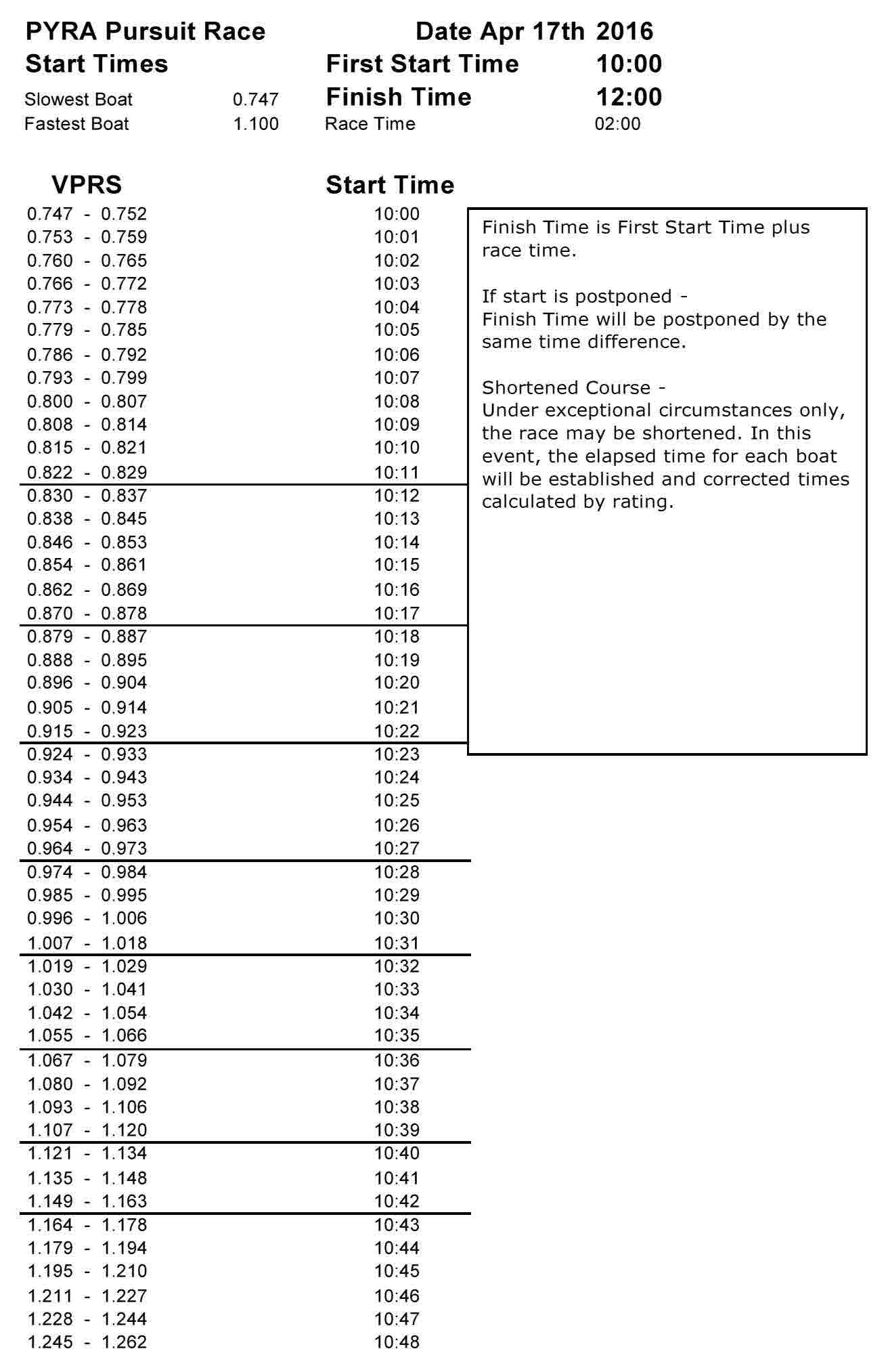 Download
Pursuit Race – Instructions – 2016
Pursuit Race 2016 – Start times
Class Splits
Class 1 >0.951
Class 2  0.881-0.950
Class 3  <0.880
Refer to Class Lists  for definitive VPRS as there are some errors in the table below