Sponsored by Haven Knox-Johnston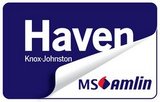 Results Passage Series B
Saturday was forecast to be wet and it was – horizontal sheets of it driven in by 25-30 knots of wind from the SSW. Firestarter  sent us off on a short windward hitch to East Hook, dismissing a plea for 'start line-finish line' from a nameless boat (who subsequently went on to win both legs in class 1) with the cutting retort that PYRA is a RACING association – in other words 'Man Up'!
The fleet of 11 (again mostly class 1) made fast time on a close reach with the tide under us, the only light relief from the miserable weather being to squint through the rain at the considerable JOG fleet doing the opposite weekend course  to PYRA. Ah ha – but would they get to dance on the tables?
A few brave souls flew their kites in the flatter waters of the Solent to add a little splash of colour into the otherwise monochromatic maritime scene. A finish on the Medina line and a quick motor up the river to the Folly pontoon with welcome beers after the rain generously provided by our sponsors MS Amlin – Haven Insurance, together with bottle prizes for a bunch of very damp sailors.
Blue Exstasy won class 1 ahead of Firestarter followed by The Grey Silkie, Amethyst, Addiction, solo Pogo Shed and then newcomer Deep Blue. Maris Otter won class 2 ahead of Athene (good to see them back again), whilst Shebeen and Nellirose each taking first and last places in classes 3 and 4 respectively (well at least we braved the weather and did it!).
What a contrast on Sunday – warm, sunny and windless. With only 3 hours of tide in our favour, Firestarter sensibly motored west leading the convoy (now joined by Blue Jay) and looking for wind. Amethyst and The Grey Silkie both elected to hurry on ahead and said their farewells. By North Head it was looking hopeful with a tentative 4-5kts. Moving on from there, Firestarter struggled to find a suitable line, finally laying a mass start at 1210hrs from a Christchurch Bay racing mark, by now with a steady 10-12kts from the south. Perenco Wytch Farm to port was put in as an intermediary mark just open enough to allow Shebeen and Maris Otter to fly their kites albeit with the apparent wind only 60 degrees off the bow. The slight harden up at Perenco forced a drop, a fast reach and rehoist at Bar Buoy for a run to the finish.
Short but delightful, warm and dry.
Blue Extasy again took class 1 ahead of Blue Jay, Firestarter, Addiction and Deep Blue. Shed retired somewhere en route (Has anyone seen him?). Maris Otter won class 2 ahead of Athene who came in hot on the heels of class 3 winner Shebeen. Nellirose finished a bit later flying the class 4 pennant.
One more race to go – Weymouth on 24th+25th September.
Ken Morgan
Shebeen