Sponsored by Channel Seaways

Results Channel Series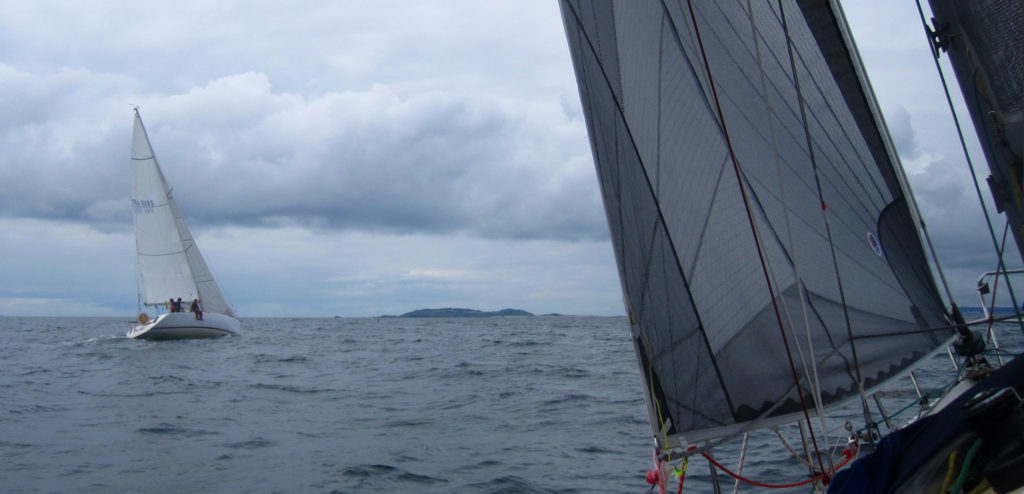 Click button for more photos. Click "Slideshow" once on the album page. Use your "back" button to return to this page after viewing photos.
Photos by Myriam
IT'S ALL ABOUT THE SAILING
Poole-Alderney
0400hrs Friday morning wishing I'd been sensible and got my head down earlier – rig sheets and guys just in case and slip away early in good time to do start boat on the Swash Line. The grey light of dawn – do a radio check to 'any PYRA boat' just in case somebody else  might be coming to join us. Warm and muggy but overcast with a west south west 12kt breeze. Hovering just off no 3 bouy when  a cloud of sail appears coming through the Haven – 16 of Poole's finest coming to the line for the Channel Seaways sponsored Channel Islands races – Friday Poole to Alderney, Saturday Alderney to Guernsey and home again Guernsey-Poole on Sunday. This weekend is going to be all about the sailing with little opportunity for hiking, bike hire or propping up bars.
With an open wind on the start transit, classes 1 and 2 enjoy some aggressive dawn luffing with shouts of 'Protest' just audible out at our end, but they seemed to have been forgotten by the end of the race (we'll see). Other than that the fleet got away cleanly with us following 2 minutes later.  The forecast looked ok but the slower boats would be especially vulnerable to the turn of tide eastwards on the far side. Most of the fleet stayed up keeping something in the bag knowing a bear away was always an option. We sailed about 60 degrees off the true wind giving a good vmg with plenty of power to push through a surprisingly lumpy sea. Later everybody commented on the awkwardness of the motion. Certainly making food for the crew proved challenging, but in a small boat there are plenty of places to brace and never too far to fall.
We kept most of the fleet in sight till halfway and managed to creep past at least one class 2 boat, really enjoying the sailing but suspecting that we were never going to save our time. A lightish patch down to 8kts breeze midway, then through the shipping lanes without any give aways for once, especially welcome now that we knew we had to stay right up to wind close to the TSS as the west going tide died away. We heard others made some expensive bear aways for ships and, in Harrier's case to look at a dolphin! Alderney was sitting under a thick grey clag still not visible 13 miles off. The class 1 boats arrived in the clag with The Grey Silkie taking advantage of their own private lift to come up out of the gloom at a steep angle, surprising Amethyst by taking line honours and first place.
A couple of hours later Shebeen was sliding sideways towards the east. We thought we were going to completely miss what was now a most enticing and sun drenched island. We clawed at every bit of wind knowing that an early tack would be futile probably setting us back out to sea. Tight into the rocks east of Braye and tack – hey presto, no tide so a short brisk beat back up to the entrance, tack again past the harbour wall through the overfalls looking for the 300 bearing finish line almost barging the over keen harbourmaster's dory out of our way.
All of the moorings were taken and we suspected that Zorra, our class 3 nemesis would be amongst them. We snugged up alongside a massive and most hospitable German Beneteau, tidied up, took refreshments, looked back and there she was looking for a berth an hour after us. Apparently that 8kt light patch disappeared into a no wind black hole just a short way to leeward unbeknownst to us through the murk, so result, Shebeen won class 3.
Maris Otter took first place in class 2 thanks (young George told me) to some Olympian Brazilian trimming.
Bruno of Channel Seaways (they bring all the islanders' shopping over from Poole) generously hosted the rendezvous at Alderney SC with welcome beer and all the usual PYRA good humoured competitive banter. A visit to the lovely Rita in the First and Last, then back to the boat for a welcome sleep. What a perfect day.
Alderney – Guernsey
But it gets even better. Saturday 0830 and Maris Otter lays a windward line off the end of the breakwater – course Start Line/Finish Line but make your own choice for Swinge or Race. In the event all went west about with only a lightish southwesterly so the overfalls wouldn't kick up too much. Close on the wind in flat water, but with a neap tide we wouldn't get enough lift to lay the Little Russel. Good news for us because Zorra was inexorably drawing ahead and slightly to windward. You can't win by just doing the same so a beat would give the chance to break cover. Twice we tacked away and twice she covered knowing that all she needed to do was stay between us and the finish. A French racing yacht came between us forcing a couple of tacks to stay out of her dirt and that broke the sequence. Zorra didn't cover. Glued to the tell-tales we played the shifts and hey, we got ahead before finishing on an ever opening fetch off the entrance to St Peter Port close under the towering bows of the Queen Elizabeth.
Matt Hitt quickly banged out the results  (Amethyst won class 1, Mojito took class 2 and Shebeen class 3) for a Rendezvous on the terrace of the Guernsey YC then very early to our bunks ready for the Sunday leg home.
Guernsey – Poole
Up at 0345hrs, pitch black and out for another Maris Otter start line, again more or less to windward into a gentle north westerly. The numbers starting were much depleted down to seven, several having stayed over in Alderney and others about to start a cruise from Guernsey.  Never mind, this was going to be a challenge as Zorra again began to creep ahead apparently going high with the rest of the fleet heading for the shortest route through the Swinge. We knew something different would be necessary so dropped our course for the Race. Zorra came down staying ahead with several hundred yards lead as we cleared Alderney, now under clear blue skies heralding a glorious day, cloudless till Swanage. With a west going tide just starting and the wind from the NNW, we struggled to make our target heading of 020, needing to crack off through the usual Channel chop. The rest of the fleet had cleared Alderney to the west, well to windward and working ahead. All we needed to worry about was Zorra. Very gradually we sailed higher until halfway when we were perhaps a half mile to windward but probably back a bit. Exactly as forecast the wind dropped for a while then backed. Up with kite for a shy reach as the wind refreshed to around 14kts. Zorra responded and for the next few hours we concentrated like mad staying shy and fast but with our bigger masthead kite we now had the advantage. The wind built, peaking at 23kts as we creamed in to the coast.
An empty tanker, the Maria, presumably having weighed anchor out of Weymouth Bay came at us from port. This was looking too close for comfort and we had little scope to manoeuvre. Bear away so we can come up hard if necessary, but still she came at us getting very close. A quick call on ch 16 with literally no time for a working channel. 'I'm going ahead of you' he said. 'Thank you Out' – pole forward, go up hard as we can and aim for just aft of her stern, by now on our ear with the thundering wall of steel blotting out our future – an ironic gesture to the ship's captain high above us and bear away pitching into her wake. That was the closest miss yet. Only 20 minutes or so later I hear the Maria on ch 16 again, urgently calling up somebody on her starboard bow. I guess she eventually barged her wayto her destination up channel without causing actual damage.
Kite down as we approached Ballard Down and a beat to the finish half an hour ahead of Zorra. Hat trick!
The Grey Silkie won class 1 and Maris Otter took 1st in class 2.
This was a brilliant weekend of excellent sailing, competitive, tactical and superb fun. It's what PYRA does best.
Poole-Alderney
Class 1
1st The Grey Silkie, 2nd Destiny, 3rd Amethyst, 4th Harrier.
Class 2
1st Maris Otter, 2nd Solmate, 3rd Minstral, 4th Mojito, 5th SupaNova,  6th Spruce Goose, 7th Virago, (Dequila DNF), (Good Krack DNF)
Class 3
1st Shebeen, 2nd Zorra, (Skykomish DNF)
Alderney-Guernsey
Class 1
1st Amethyst, 2nd Destiny, 3rd The Grey Silkie, 4th Harrier
Class 2
1st Mojito, 2nd Maris Otter, 3rd Virago, 4th Solmate, 5th Spruce Goose
Class 3
1st Shebeen, 2nd Zorra
Report by Ken Morgan
SHEBEEN
---
Guidance –
https://www.gov.uk/government/publications/sailing-a-leisure-craft-to-and-from-the-uk
https://www.gov.uk/government/publications/import-and-export-pleasure-craft-on-non-eu-voyages-leaving-or-arriving-in-uk-c1331
Form – see
https://www.gov.uk/government/uploads/system/uploads/attachment_data/file/374211/c1331.pdf