Sponsored by Bennett Windows and D J Hale Building Contractors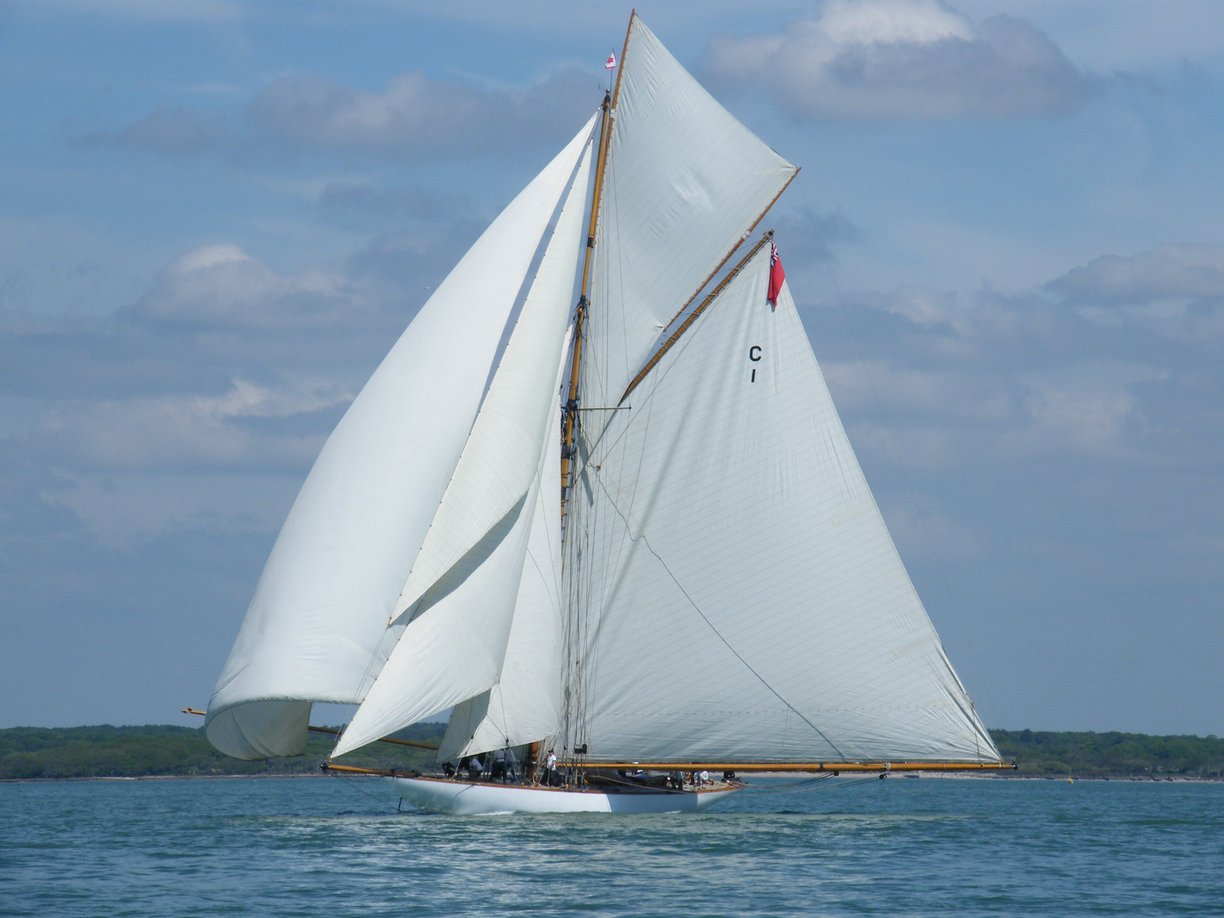 What a beautiful old lady.  She is "Mariquita"  Check out some of the video  clips on this website Mariquita
This shot was taken by Matchmaker during the Poole to Bembridge Race
From the deck of Matchmaker
The forecast for Saturday and in fact the whole weekend was for very little wind! We had visions of engine on and following my leader well into the Solent! Luckily however there was a light E to SE breeze and so course was set for North Head, the Medina finish line, 5A (Clarence Boat Yard, off Wooton Creek), and Bembridge. Times were to be taken at each mark. A few were seen trying kites on the way to North Head but it was very shy and then the wind went light headed us as we approached the Solent. The vast majority made it as far as the Medina finish line and a few also made it 5A. In the Solent we were treated to the sight of Mariquita with spinnaker flying, it is well worth checking out their website. A strategic decision had to be made by all with regard to when to put the engine on. All succeeded in getting into Bembridge.
Our sponsors treated us to Pimms and beefburgers which was enjoyed by all. A few then ventured into Bembridge along the causeway. Negotiating the way back required some care! Some were partying until 3:30!
It was a late start back  to Lymington on Sunday (16:10) which enabled us to do a bit of exploring. We hadn't realised how large the rebuilt (2009) Bembridge lifeboat house was. It was an £8,000,000 project!!
Bembridge Life Boat Station http://www.bembridgelifeboat.org.uk/bembridge-lifeboat-station
Lifeboat launch https://www.youtube.com/watch?v=qeVs76x0AVo
The wind was westerly force 4 gusting 5 which gave us a hard beat up the Solent, but with the tide. Surprisingly there was little "Solent chop". The first multihull to arrive at Lymington was Smithy at 18:09 and the first class I boat to Lymington was Blue Jay at 18:33. The last boat arrived at 19:13.
Many congregated at the Mayflower for food and a well earned drink.
On Sunday we all enjoyed a late breakfast as the start home was not until 14:30. It was decided to move the start to North Head but then finding that Dream On needed to sail rather than use her engine we started at Echopilot (2A), just inside Hurst. The wind was SW to W F4 to begin with but this lightened significantly and shifted north-westerly once we were all well inside Poole Bay. This caught out those who we well offshore!
All in all we would vote Bembridge a success and the tide's worked, albeit you can't have it both ways and so it will always tend to be a late return to Poole.